The following presents a brief description of various architectural styles found in Hartford.
 Most of the houses and buildings illustrated are examples of one particular style, but in many cases architects and builders would combine features from an old familiar style and a newer one in a single building. Over the years, renovations and additions are a direct and personal reflection of changing tastes. Therefore, the assortment of styles shown here can be viewed as an heirloom from the past, helping us to see how our urban environment grew and developed. By preserving and adapting our architectural heritage, we create a valuable link with our past while developing new uses for the future.
 COLONIAL ERA
Georgian 1700-1800
"Georgian" is often used to describe houses built during the reign of the Georges in England. This house has many typical features of the eighteenth-century New England house: wood frame construction, large chimneys, narrow clapboards, and small-paned sash windows. The typical Georgian building is two-story. Symmetry was the rule during this period, and the characteristic façade has a central entrance with two windows on either side. The square, heavy proportions of these buildings often give an effect of massiveness. (Photos: left – Butler-McCook House 396 Main Street; right – Wadsworth Tavern 1234 Prospect Avenue)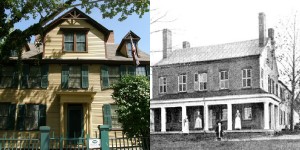 Federal or Adam 1700-1800
The Federal style (or Adam style) popular in this country from the 1770's until about 1810, utilizes the same elements as the Georgian style. The difference between the two is a matter of proportion, the Federal being lighter and more extenuated than the Georgian. The wall surface also becomes flatter with window and trim elements at first in lower relief and finally incorporated into the plane of the wall itself. Federal buildings are often three full stories, and can be either wood frame or brick. (Photos: left – Henry Barnard House 118 Main Street; right – Amos Bull House 63 South Prospect Street)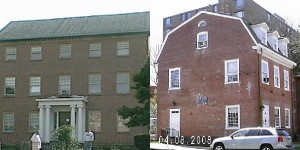 GREEK REVIVAL 1820-1860
The rediscovery and renewed interest in the ruins of ancient Greek architecture and the Greek War for Independence inspired this style. More elaborate homes often freely copied the columned porticos of classical Greek temples. Characteristics include supporting pilasters at the corners, wide entablatures under the eaves and triangular pediments. The size and symmetrical placement of the windows and the recessed entrance emphasize the bold classical scale of the building. (Photos: left – 87 Oxford Street; right – Peck House 214 Main Street)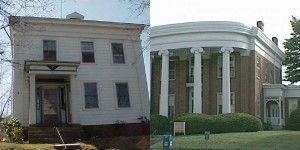 VICTORIAN ERA
 Italian Villa 1830-1880
This picturesque style was based on real and imagined concepts of Italian country homes built during the Renaissance. Classical details included arched and balconied windows, bracketed cornices and arcade porches. The grouping of masses in an L-shape around a central tower are typical and allowed for flexibility in the arrangement of generous interior spaces. (Photos: left – Gatling House 27 Charter Oak Place; right – Day-Taylor House 81 Wethersfield Avenue)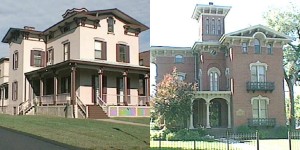 Italianate 1840-1880
Italianate refers to a simpler style of building than Italian Villa, but with similar classical detailing. Italianate houses are usually compact square blocks with wide eaves, tall windows and formal, symmetrical or asymmetrical facades. Many of Hartford's Italianate double houses have survived in the neighborhoods encircling the Downtown area. They typically have pedimented entrance porticos, ornamental window hoods, and brick string courses at the top story suggesting a classical frieze. Their red brick walls and brownstone lintels, sills and foundations give testament to the proliferation of brick yards in Hartford and the ability to transport up the Connecticut River stone from the Portland quarries. (Photos: left – 124 Jefferson Street; right – 782 Asylum Avenue)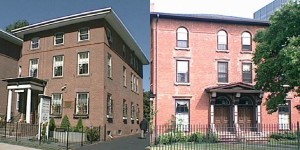 The Congress Street and Charter Oak Place National Historic Districts provide multiple examples of the Greek Revival, Italian Villa and Italianate styles.
Gothic Revival 1830-1890
Interest in the Romance of the Middle Ages gave the initial impetus for the fanciful reinterpretations of Gothic architecture which spanned the nineteenth century. Residential buildings can be identified by their steeply pitched roofs, wall dormers and asymmetrical massing. Tall windows and narrow fronts emphasize the characteristic vertically in "Carpenter Gothic." Decorative accents include patterned woodwork in the dormers and pointed arches with jigsawn "gingerbread." (Photos: left – 125 Allen Place; right – 200 Beacon Street)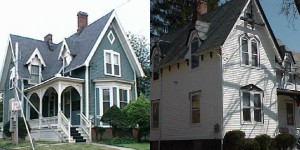 Second Empire 1860-1890
A high mansard (double-pitched hipped) roof pierced with dormers is the hallmark of the Second Empire style, named after the fashionable Paris architecture during the reign of Napoleon III. In addition to the mansard roof, tall narrow proportions, a central or off-set tower and rich ornamentation also characterize the style. Typical features also include arched windows, molded window caps, bracketed cornices (a holdover from the Italianate style) and ornamental rails crowning the roof line. (Photos:left – George Fairfield House 160 Fairfield Avenue; middle – 12 Warner Street (a rare Second Empire double house); right – Oliver Eaton House 157 Fairfield Avenue)

Queen Anne 1880-1900
This style, named for the British monarch, was coined to describe buildings inspired by pre-Georgian English architecture. An exuberant variety of forms, textures, materials and colors is characteristic of the style. The complex massing is enriched by the addition of towers, projecting pavilions, porches and encircling verandahs. Decorative details include stained glass, textured brickwork, elaborate woodwork, molded terra cotta panels and rusticated brownstone foundations. Hartford has numerous vernacular examples which repeat this basic form in brick or frame, though with somewhat simpler detail. (Photos: left – Borden-Munsill House 2 Wethersfield Avenue; right – 97 Wethersfield Avenue)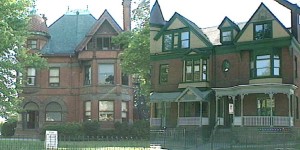 SHINGLE STYLE – CLASSICAL REVIVAL 1880-1910
Architecture with classical or even colonial embellishments which adapted rather than followed historic precedent were typical of the turn of the century Classical Revival. Imaginative houses of this period (really variations of the Queen Anne style) abound in Hartford. Common features include asymmetrical floor plans and intersecting gables and hip roofs, wide porches, bay windows and second or third story overhangs. Palladian windows, double rows of shingles, balustrades and ornamentation in the style of the English Adam brothers often occur in the wide variety of details that can be found in houses of this type. (Photos: left – 31 North Beacon Street; right – 249 Fairfield Avenue)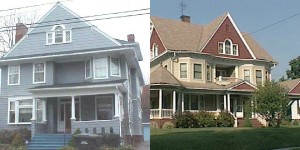 TUDOR 1890-1915
Also known as Jacobethan¸ this style takes its name and appearance from late medieval English architecture which features the well known brick first story and upper stories of half-timber and stucco. Period detailing includes tall molded chimneys, large windows with leaded panes, heavy buttresses, Tudor-arched doorways, multiple gable roofs and the use of contrasting stone for sills, lintels, mullions and keystones. (Photos: left – 169 Fairfield Avenue; right – 820 Prospect Avenue)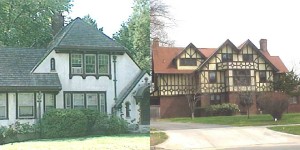 BUNGALOW 1890-1940
The name of this style comes from a Hindustani word applied by the British in nineteenth-century India to a low house surrounded by a verandah. The true bungalow has one story under a broad, gently pitched roof. Design elements typically emphasize the overall simplicity of the style including a modest size, rough fieldstone for foundations, fireplace and porch piers and minimum detailing. Characteristic accents include casement windows on either side of the fireplace, exposed rafters extending beyond the roof, Craftsman style doors and window and central dormer or eyebrow window.
COLONIAL REVIVAL 1900-
The predominant style of residential buildings for the first half of the twentieth century. They were typically built as a solid block mass with a hipped or gable roof and often included a projecting portico or front entrance porch and side porch addition (often to be enclosed and heated for additional living space). Detailing is simplified and limited to a few well-chosen features: classical Doric columns and entablature on the portico, Flemish bond brickwork on the façade, and a fanlight and sidelights framing the entrance door. Typically windows and dormers are balanced to give these houses an overall symmetry. Variations of the Colonial Revival style continue to be used by architects and builders to this day.
Historic Hartford Handbook: Approaches to Remodeling Older Homes (1985)
For more in-depth information on architectural styles, we recommend A Field Guide to American Houses by Virginia & Lee McAlester (1984: Alfred A. Knopf, Inc.)