REVOLUTIONARY WAR
ISRAEL PUTNAM

Trinity Street (Bushnell Park/southwest of Memorial Arch)
Presented to the City of Hartford June 17 1874 (gift of Joseph Pratt Allyn)
John Quincy Adams Ward, sculptor
Originator of the phrase "Don't one of you fire until you see the white of their eyes," Putnam is also depicted leaving his plow to join the revolution in a carving on the north side of the Capitol building.
NATHAN HALE
600 Main Street (Wadsworth Atheneum)
Dedicated 1894
Enoch Smith Woods, sculptor
THOMAS KNOWLTON "Connecticut's Forgotten Hero"
168 Capitol Avenue (State Capitol grounds/east side)
Dedicated 1895
Enoch Smith Woods, sculptor
Knowlton commanded Connecticut troops at the Battle of Bunker Hill. On September 16, 1776 he was killed by the Black Water while scouting Harlem Heights in New York. His men carried his body off the field to prevent its capture by the British and he was buried in an unmarked grave at the corner of 143rd Street and St. Nicholas Avenue.
MARQUIS de LAFAYETTE
Lafayette Park (intersection of Capitol Avenue and Washington Street)
Dedicated November 11, 1932 (gift of Mrs. Frances Storrs)
Paul Wayland Bartlett, sculptor; George Keller, base
This Lafayette statue is a replica of the original that was donated to the people of Paris on July 4, 1908. The bronze copy was fabricated from the plaster cast that had been donated by the artist to the people of Connecticut in 1913.
GENERAL CASIMIR PULASKI
394 Main Street (Pulaski Park)
Dedicated July 3, 1976
Granville W. Carter, sculptor
Pulaski was recruited by Benjamin Franklin and was the first foreign leader to die in the War of Independence. He is considered the father of the American cavalry.(Source: "Hartford, CT War Memorials," Hartford History Center
CIVIL WAR
SOLDIERS AND SAILORS MEMORIAL ARCH
Trinity Street (Bushnell Park)
Dedicated September 17, 1886
George Keller, architect

1st CONNECTICUT HEAVY ARTILLERY MONUMENT "Petersburg Express"
168 Capitol Avenue (State Capitol grounds/Capitol Avenue entrance)
Dedicated September 25, 1902
Stephen Maslen, designer of base
The monument itself is a 13" mortar gun said to have been used by the 1st Connecticut "Heavies" during the siege of Petersburg. During the Civil War, it was transported on a flat-bed railroad car. It took 18 horses to move the mortar gun from the Windsor Street freight yard to the Capitol grounds. The 1st Connecticut Heavy Artillery is the only Civil War regiment to have its memorial placed on the State Capitol grounds.

ANDERSONVILLE MONUMENT "Andersonville Boy"
168 Capitol Avenue (State Capitol grounds/west side of Capitol building)
Dedicated September 17, 1909 (gift of Colonel Frank Cheney)
Bela Pratt, sculptor
The original statue was commissioned by the Connecticut survivors of Andersonville and installed in the Connecticut section of the Andersonville National Cemetery in 1907. The monument commission felt the depiction should be of " a very young man, in Civil War uniform to the smallest details and whose expression should be that of courage and heroism that are developed in suffering – strong, modest, hopeful."
CAMP FIELD/GRIFFIN STEDMAN MONUMENT


6 Campfield Avenue (Campfield Park)
Dedicated October 4, 1900
Frederick Moynihan, sculptor
For their war monument, the veterans of the 22nd and the 25th Connecticut Volunteer regiments joined forces to commemorate the camp field where the 5th, 8th, 10th, 14th, 16th, 22nd and 25th Connecticut regiments mustered into Civil War service.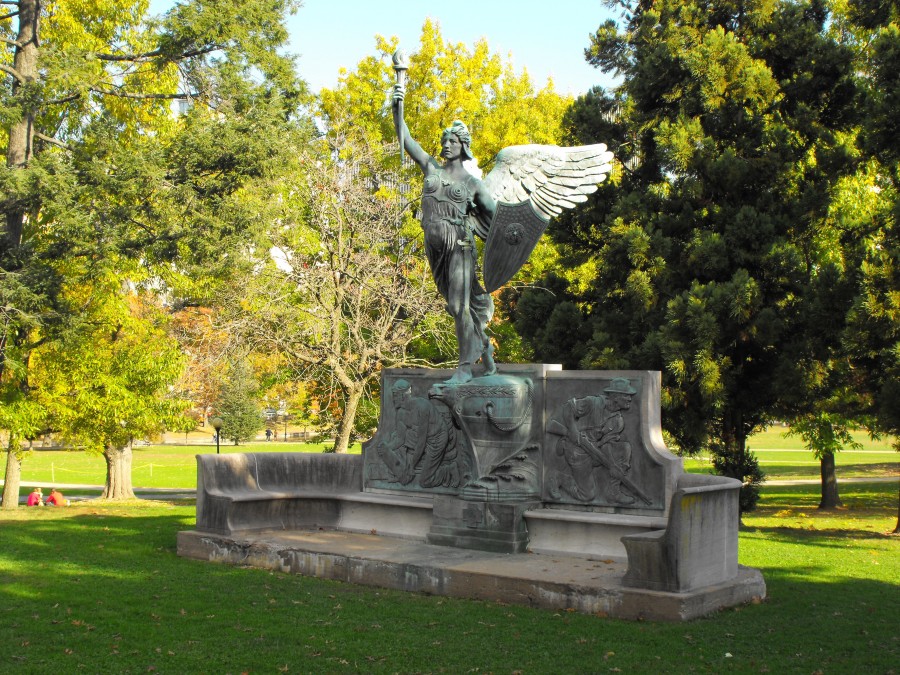 SPANISH AMERICAN WAR MONUMENT
Elm Street (Bushnell Park)
Dedicated May 22, 1927
Evelyn Longman Batchelder, sculptor
According to a Hartford Courant interview with Mrs. Batchelder, the central figure of the monument represents Columbia, armed and victorious bearing, in her right hand, the torch of Liberty to Cuba.
WORLD WAR I
MAJOR GENERAL CLARENCE RANSOM EDWARDS
168 Capitol Avenue (State Capitol grounds/west side of Capitol building)
Dedicated May 30, 1942
George H. Snowden, sculptor
Major General Edwards was commander of the 26th Division (Yankee Division).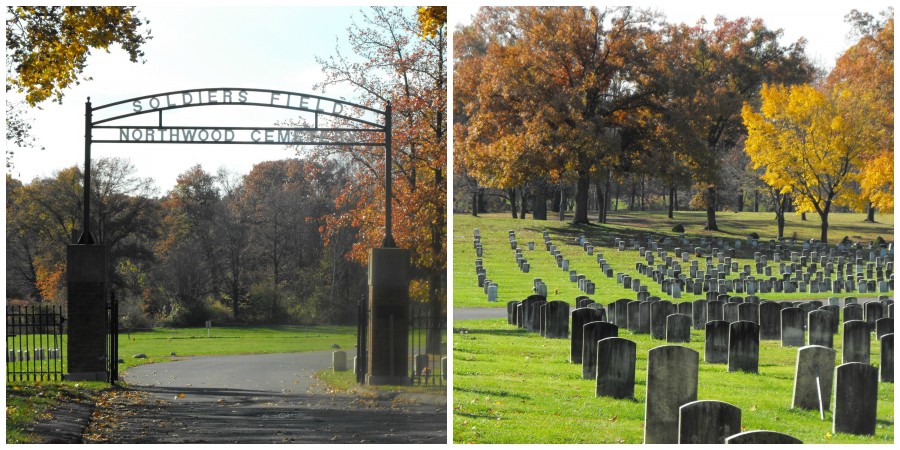 SOLDIERS FIELD, NORTHWOODS CEMETERY
137 Matianuck Avenue, Windsor (Northwoods Cemeter)
Dedicated November 11, 1928 "as a final resting place for those who served in the Armed Forces of our country in time of war. That the glory of their deeds may shine in the heart of a grateful city."
Soldiers Field has several war monuments including:
WORLD WAR I MONUMENT
WOMEN WHO SERVED IN WORLD WARS (WWI & WWII)
MACHINE GUN COMPANY, 1ST INFANTRY, CONNECTICUT NATIONAL GUARD
WORLD WAR II


PARKVILLE HONOR ROLL
1755 Park Street (corner of New Park Avenue)
Dedicated May 14, 1944 (Mother's Day)
This memorial was one of six that were dedicated in Hartford neighborhoods to honor the service men and women who served from 1941 to 1945. The granite column was originally flanked by two wooden panels containing approximately 950 names. It was believed to have been the first permanent World War II memorial unveiled in the state.
NORTHWEST HONOR ROLL
1 Ridgefield Street (intersection of Woodland and Greenfield Streets)
Dedicated November 12, 1944
All that remains of this 35-foot-high monument with 1,400 names is the base at Aaron Fein Square. It is believed that the monument was removed for restoration and repairs but its current whereabouts are unknown.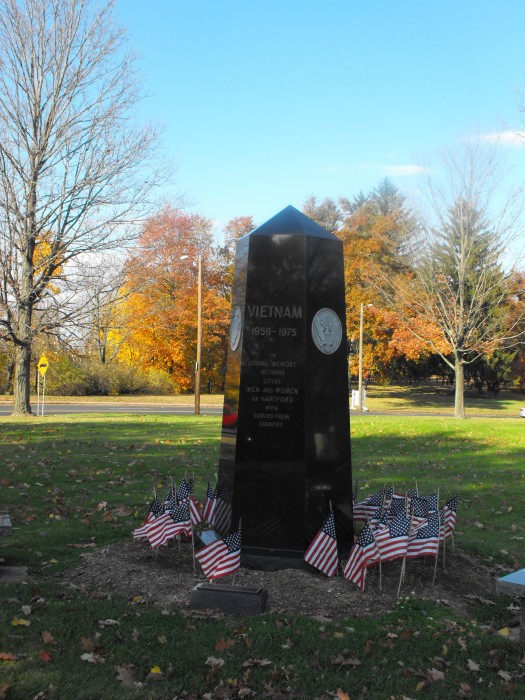 VIETNAM WAR MEMORIAL
2 Fairfield Avenue
Dedicated May 29, 1989
The 9-foot-high memorial and flagpole were erected through the efforts of Boy Scout Troop 105. The names of the 39 Hartford servicemen who were killed during the war are inscribed in the base of the monument.
OTHER
VETERAN'S MEMORIAL COLISEUM, HARTFORD CIVIC CENTER
Dedicated January 12, 1975
Vincent Kling & Associates, architect; Danos & Associates, associate architect
SOURCES:
The Harford Courant archives
"Hartford, CT War Memorials." Hartford History Center.
"Civil War Memorials at the Connecticut State Capitol." Museum of Connecticut
History, 2011.