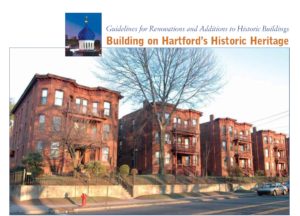 Hartford is one of the most historic cities in New England and has embraced historic preservation as a tool for strengthening and fostering economic development and neighborhood  revitalization.
In May of 2005, the City Council adopted a groundbreaking new law that protects every property designated on the State or National Register of Historic Places from unauthorized demolition or alteration. The Ordinance states that all work visible from the street and requiring a building permit being performed on properties that are individually listed or within a historic district must gain the approval of Historic Preservation Commission before they may receive their permit. This requires completing an Application for Historic Review when applying for a building permit.
PLEASE NOTE: PROPERTY OWNERS PLANNING TO USE ANY STATE OR FEDERAL HISTORIC TAX CREDIT PROGRAM MUST HAVE THEIR PLANS APPROVED BY THE STATE HISTORIC PRESERVATION OFFICE PRIOR TO SEEKING APPROVAL FROM THE HARTFORD HISTORIC PRESERVATION COMMISSION. 
For more information, please contact:
Sandy Fry, Senior Project Manager – Development Services
sandy.fry@hartford.gov or 860.755.9222
Mary A. Falvey, Executive Director – Hartford Preservation Alliance
mary@hartfordpreservation.org or 860.570.0331
HELPFUL DOCUMENTS:
List of Properties Covered by the Ordinance
Historic Preservation Guidelines
Best Practices & Guidelines for:
Brick/Masonry   |   Porches   |   Roofs