WELCOME TO THE
FARMINGTON AVENUE
CULTURAL CORRIDOR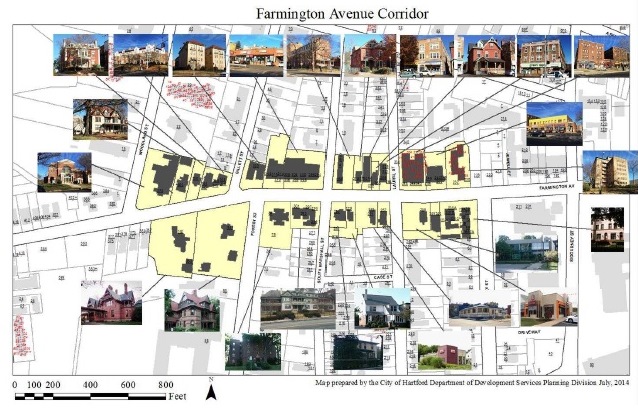 In January, 2015, the Connecticut Main Street Center awarded a Preservation of Place grant to the Hartford Business Improvement District (Hartford BID)  for the creation of a community vision plan for a six block area on the Asylum Hill neighborhood – from Sigourney Street to Woodland Street. The Hartford Preservation Alliance worked closely with the BID in developing a framework for action. On September 21, the BID and HPA convened a community forum to present the resultant Comprehensive Community Plan and to start the discussion about how to make a real and lasting change to this area.
In September, 2015, the Hartford Preservation Alliance was awarded a Community Planning Grant by the City of Hartford to begin a plan for redeveloping a critical yet long neglected block – the south side from Laurel to South Marshall, home of the famous Comet Diner.
In the fall of 2015, HPA assembled a task force to provide leadership needed to coordinate, manage and carry through on the Action Plan. Updates and materials on the task force's progress can be found on our Community and Task Force Materials page.