♥♥♥ THANKS TO ALL OUR HARTBOMB 2016 SUPPORTERS ♥♥♥
HPA celebrated Valentine's Day 2016 and publicized our Top Ten Endangered Buildings list with our 2nd Annual HARTBomb event.
♥ Architecture students from the University of Hartford braved the cold and HARTBombed some of our endangered buildings
♥ Corporate partner Hartford Prints! hosted a HARTBomb Happy Hour at their downtown Pratt Street store.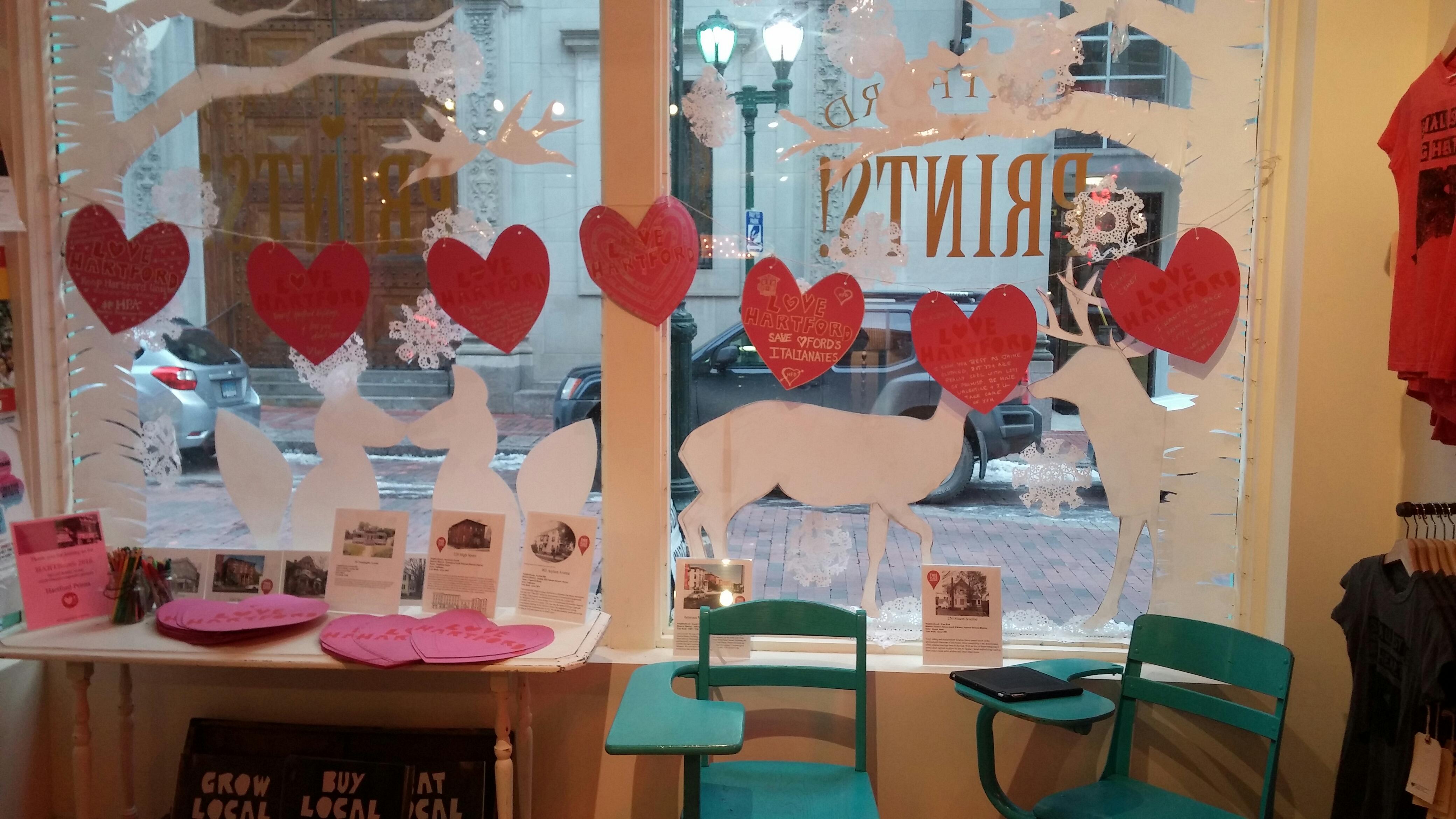 ♥ Board members, staff and members gathered at our offices Valentine's Day morning for breakfast to show our love for Hartford's architectural treasures and demonstrate our support of our historic neighborhoods. 
SPECIAL THANKS TO OUR 

HARTBOMB 2016 SUPPORTERS 
♥CORPORATE PARTNER♥
Hartford Prints!
♥SUPPORTER♥
John W. Kemper, Jr./Kemper Architects*
♥VALENTINES♥
Anne McAloon
Nancy Macy
Karen Binney
Karen McNey
Ann Means*
Jonathan Cabral*
Patrick McKenna
Beth Pite
Nina Caruso
Eric O'Donnell
*HPA Board of Directors
What is HARTBomb?
"Heart Bombing" was started on Valentine's Day 2013 by the Buffalo Young Preservationists and is now growing into a national grassroots movement.
HPA started it's own HARTBomb event in 2015 to announce and draw attention to what we consider to be our Top Ten Endangered Buildings. Hale and hearty volunteers strung up handmade Valentines at 270 Albany Avenue. Our inaugural endeavors brought us great media attention including being the featured front page story on next day's Hartford Courant and news coverage on FOX61 and WTIC-AM.
♥ Support the HARTBomb program and HPA!
Your tax-free donation to HPA helps, in part, to fund our community outreach and advocacy programs and enables us to spread the word that preserving our historic buildings, sites and neighborhoods results in economic growth and a better quality of life in the capitol city. Please consider donating a Valentine or becoming a corporate sponsor today.